We recently caught up with Paul Cameron, ASC, to discuss the short film he recently shot with director F. Gary Gray for the big game next Sunday, featuring Dr. Dre, Snoop Dogg, Eminem, Mary J. Blige and Kendrick Lamar.
Jeff Berlin:
First, you've used VENICE a lot lately, like Westworld, 21 Bridges...
Paul Cameron, ASC:
Yes, I used the VENICE when it came out on 21 Bridges, that was probably the first feature I did with it. And I did a film called Reminiscence on it as well. I used a lot of the 2500 ISO high base on that one. And I use it on commercials all the time, as much as I can.
JB:
So what is it that keeps you coming back to the camera?
PC:
I think what I noticed in DI suites, when you do some heavy duty testing like we did on Westworld probably, two seasons ago, when we compared 35mm film to the VENICE. The show is shooting on 35mm film and Jonathan Nolan was considering switching, as much of a film aficionado as he is, and we did some big split screen tests over at FotoKem with Dave Cole. And you could just feel how well the color space works in a cinematic way for me, specifically skin tones and highlight rendition; the sensor overall was very pleasing. And when you get feedback from top DI colorists and they're not fighting a color space, as with other camera systems, where the Sony color space falls in naturally and can deal with skin tones in a very natural, cinematic way when you put a proper film science look up table on it.
It was amazing because I did some close ups of Evan Rachel Wood on 35mm film. And then on the VENICE, same lens, same everything, same lighting, same exposure. It was very, very hard to distinguish which was which. Obviously a little bit of grain gives it away, but I put a little LiveGrain on some of the tests so we could see what was what, or not see what was what. And the only thing we noticed was in the 2500 ISO mode that there was loss of a little bit of blue.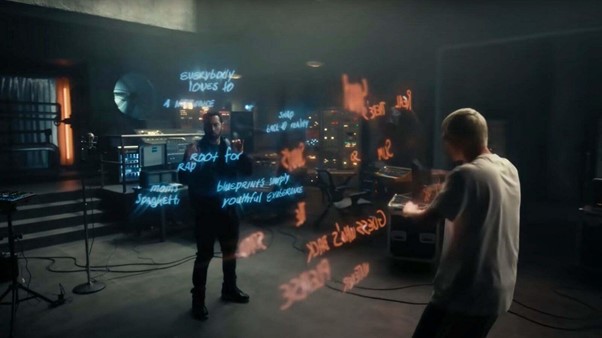 And once I started using the camera one of the biggest attributes of it, besides the color space, was the internal NDs. I believe in a psychology of depth of field, especially for big-screen films. To kind of put that in a nutshell, it's really how one controls their depth of field with long lenses and specifically, anamorphic. I've always lit night exteriors on film in the past at 5.6 and shot my wides with an ND .6. And then I would pull an ND .3 for a medium lens. And then for a tight anamorphic, I'd pull all the ND and I'd try to get some kind of sensibility and more depth of field in some shots, because it's just important to me.
So now to have a camera where you're running and gunning and shooting and you just swing the camera over, press the menu, and go from an ND .6 and to a 1.2, or whichever, I find I'm constantly doing this to select my depth of field. Even on commercials I do it all the time. And I've been leaning on the ISO 2500. I did another spot, the Jon Hamm spot that broke for Apple TV +, and that I shot all at 2500. There was a scene at night in Downtown L.A. which we wanted to shoot anamorphic. I didn't want to shoot anamorphic at a T2, I wanted to shoot at a 2.8 and get a little bit of feeling of depth of field in the back there. It's incredible, you put that camera in 2500 mode and put the lens at T2.8, and you look at a color corrected monitor and you're seeing what your eyes sees, right? And that's pretty amazing. So 2.8 at 2500 at night to me is like exactly what your eye is kind of seeing in a nightscape. So, in the Apple spot specifically, it was great because we had some evenings that had some atmosphere over Downtown L.A. that was kind of obliterating it, but just to have that beautiful night city glow with the anamorphic bokeh, the 2500 at night shooting extremely low light levels was great.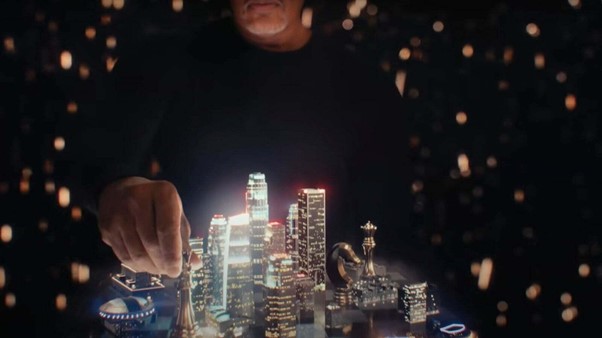 JB:
Have you shot VENICE 2 yet with, I'm sure you know, the higher base at 800 and 3200?
PC:
No, I haven't shot with the VENICE 2, although last week there was a demo over at Keslow Camera. I went through the camera and I'm excited to see the new the 3200 mode. I'm curious. Of course, I'll do some tests with it. But it's incredible to work at such a low light level. On the last film I did, Reminiscence, so much I did was with live projection on a scrim material where I was shooting either wide open or at a T2 most of the time. And lighting faces with light you can barely see on them. It's kind of frightening to shape light where you can barely see it by eye and you're relying on the monitor. But that's where we are with these higher ISOs now.
But it was fascinating to do that film and then add LiveGrain to get a more filmic look, and be able to jump from 500 to 2500, or now 800 to 3200, that's just a big advantage. I don't think there's any other camera system doing it right now. It speaks for itself when we're looking at scenes in Reminiscence and in the DI suite, and I'm like, Geez, I don't recall whether I shot at 500 or 2500. Of course, we would look back in the metadata and sometimes I'd be dead wrong, where I thought it was 500 but it was 2500 and we didn't see any noise or anything. So this makes one a bit more fearless going into the higher ISO modes.
JB:
Let's talk about the Pepsi spot. First, it looks like it was a fun shoot. Was it fun?
PC:
Oh, it was great. It's funny, I hadn't worked with F. Gary Gray in quite a while and he's been directing for many years now and has quite the body of work. To get together with him and these legends from the past, Snoop and Dre and Kendrick and Eminem, having worked with them in different capacities over the last couple decades, was just great. And then there's this anthemic idea for them all being in their own world and getting a call from Dre to come together and do the halftime show at SoFi. To be with them and photograph them again was just a great opportunity. And Gary's very specific about what we shot. Together we built boards and he put together a very specific animatic from beginning to end. The long-form piece they released is pretty much exactly like Gary's animatic.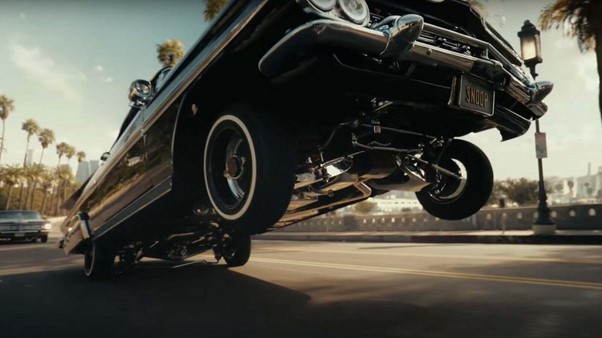 JB:
Can you detail what an animatic is for some who many not know?
PC:
An animatic is basically another form of pre-vis, but it's done with storyboards, or reference pictures, or location pictures. And it was great because we worked with The Mill, the VFX company with whom I've worked quite a bit. There's a number of visual effects in the film, and there were a number of challenges, like adding planes in the background behind Eminem, or a car behind Mary J Blige in a parking lot that wasn't going to be there the night we shot it, but we needed to get a plate for it and light it in another parking lot away from the stage. The collaboration between Gary and The Mill and Dominic Watkins, the production designer, it was great.
It was a very quick shoot. It was nice to shoot with the VENICE. For the most part, I shot on ISO 500, although the parking lot scenes and the end scene where they walked to the stadium at the end, I did that at 2500.
JB:
The low riders, for example, with Snoop, it seemed like that was a mix of VFX and live, and it seems the chess was CG, or was the chess done with a probe lens? Some of it was just so interesting visually.
PC:
Yes, it's funny... Gary and I actually did our own simulated version of the shots with a probe lens and built the shots that ended up in the animatic that would end up being CG later. We decided that, because with buildings popping up and chess pieces moving, shooting with a probe lens was challenging. That particular lens we would've used was a T14. So we basically went through the shots, decided what they were, and gave that to The Mill to build it in CG.
Gary wanted a lot of FPV drone shots that would link scene to scene. So the viewer goes up into the sky, comes flying down on a drone that links up to a Pursuit arm shot into a car, to a close up of Snoop. There was a lot of stitching.
JB:
I remember that shot. So that was a drone that stitched to a Russian arm?
PC:
Exactly. I believe we used XM2 Pursuit.
JB:
Were they flying a VENICE?
PC:
Yes, we flew a VENICE. I fly a VENICE with Pursuit all the time.
For more details about the Sony VENICE 2 visit our product page for full specs and features or book a demo by contacting us on 01895 825 619.